Exciting news! The following Orange County businesses recently received the Breastfeeding Friendly Business award from the North Carolina Breastfeeding Coalition! We love to celebrate our Breastfeeding Family Friendly Businesses in Orange County and to connect them with families in the community. Apply for the Breastfeeding Welcome Here award.
Check out all our breastfeeding friendly community partners and employers: businesses, childcare providers, and healthcare providers. Thank you for your support of breastfeeding!
Learn More about the Benefits of Becoming a Breastfeeding Friendly Business
For Families
Breastfeeding supports the health of our families. It provides immune boosters to fight infections in infants and young children, lowering the risk and/or reducing the severity of many illnesses and infections. We also know breastfeeding rates increase dramatically with support. During this global pandemic and always, your support plays an important part in the success of breastfeeding for our families.
For Your Business
Providing support for nursing/lactating families at work is good for business. Hundreds of companies provide lactation support programs as part of their family friendly benefit policies. They have learned that lactation support programs:
Lower health care costs due to healthier babies and parents.
Reduce rate of absenteeism due to infant illness (among both mothers and fathers).
Lower turnover rates.
Improve employee productivity and loyalty.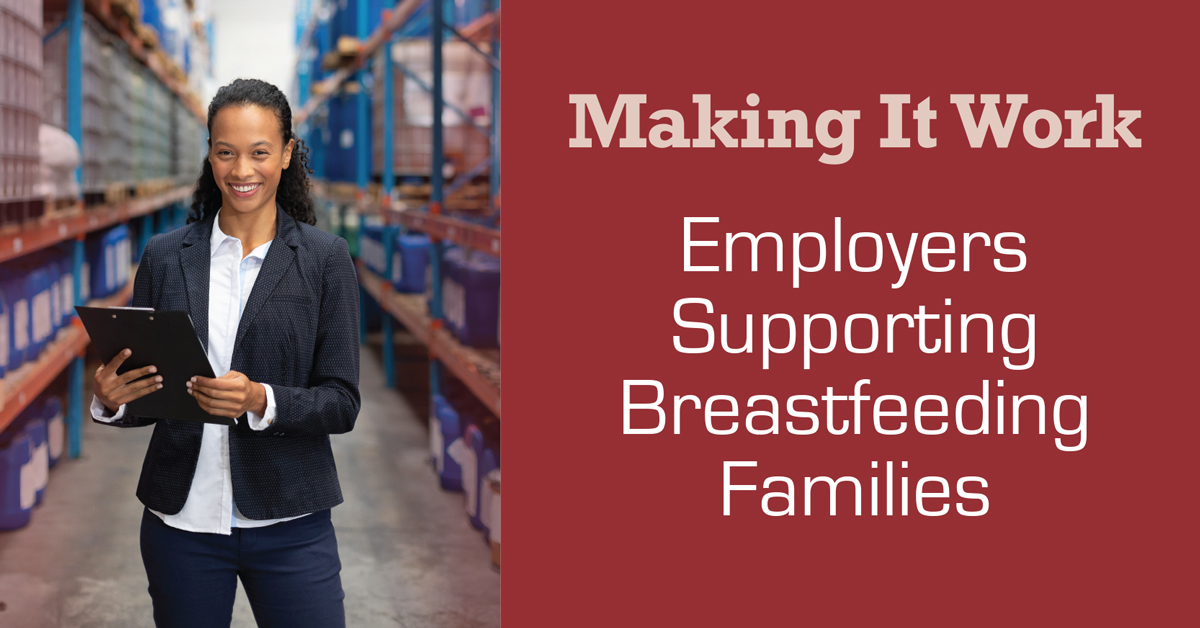 Learn More about the Ways to Support Your Employees
Allow breastfeeding employees to take breaks to express milk or nurse their children
Provide access to a private space for expressing milk or nursing that:

is private and shielded form view
is lockable
has hand hygiene station nearby
Is NOT a bathroom

Write a Lactation Policy
Resources